ABOUT/NEWS
I help business owners live their dreams.
Are you living yours?
We all went into business with an idea of how life was going to be for ourselves.  Often, I hear from owners that their dream gets pushed further and further away as the day-to-day realities of running a business take precedence.  I understand – I'm a business owner too.  BUT!!  There are ways to mitigate this so you can have the life (and business) you want.
 Don't lose sight of your future! 
Contact me at 763-551-4777 to see how I can help.
NEWS
Since 2019, 4 companies I have worked with have SOLD SUCCESSFULLY.  The industries include Engineering, Marketing Communications, IT and Distribution.  I have worked closely with the owners of these privately held businesses in my roles as business coach, consultant, mentor, advisor and board facilitator.  If you would like to discuss what I can bring to the process of building your company to the point of attracting the interest of a qualified buyer, please contact me at mark@kodyne.com.
In the spring of 2023, I served on an evaluation team for the Performance Excellence Network's engagement with a hospital in Ames, IA.
Check out my latest article – Brand Promises vs. Exceeding Expectations on my articles page.
See my culture article – Unraveling the Mystery of Organizational Culture on my articles page, published in Upsize Minnesota business magazine.
Is your organizational culture helping or hindering your business?  I have the tools to answer this question and to guide you towards the the culture you need.  Contact me to learn more!
if you've recently acquired a business or are combining companies, let's talk about my post-merger integration service offerings.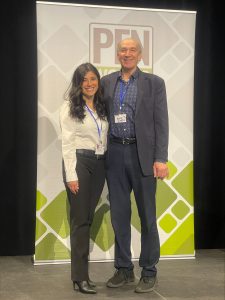 Mark with Jo-El Sprecher of Mary Greeley Medical Center (Ames, IA) at the 2023 PENworks conference on performance excellence
Contact me at 763-551-4777 or email to
Copyright 2023.  All rights reserved worldwide.